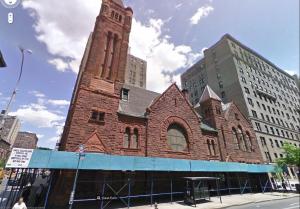 A City Council vote is slated for Wednesday on the hard-fought fate of historic designation for the red-brick West Park Presbyterian church on 86th Street and Amsterdam, and the last-minute requests for support and opposition have come in.
Curbed has a letter sent out by the church's pastor, Rev. Robert Brashear, who asks Council members to oppose the designation, saying it "would represent a victory for those who have often advanced their cause through misrepresentation and misinformation," and claiming recent vandalism of his church.
Below is a letter sent Tuesday by the local councilwoman and landmarking supporter, Gale Brewer, asking her colleagues to support her in tomorrow's vote.
Typically, the Council defers to local members on the issue, but the church apparently has been hoping that the broader issue—landmarking a religious institution against that institution's will—might inspire members to vote against it. The financially troubled church has said it cannot afford the maintenance for it, and had proposed selling off some of the land to apartment developers.
Here's an excerpt of Ms. Brewer's letter:
"By preserving a living church in a historic building, let us affirm that a religious mission and civic duty are not incompatible. They are alike in their care for public good and the role of the church within the community," she wrote. "Based on the architectural and historic importance of West Park, the exceptional level of declared support from community and preservation organizations, their large financial and technical commitments, and in light of …. I urge my colleagues to support LU No. 7, landmark designation for the West Park Presbyterian Church."
2010-05-11 Dear Colleague on West Park Presbyter Ian Church Land Marking (1)