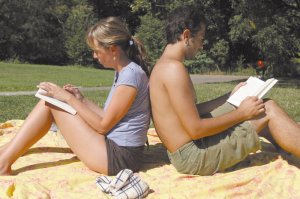 On a recent beautiful Saturday afternoon, Merrell Hambleton, 24, set out with her roommate for Pintchik's Discount Hardware on Bergen and Flatbush to buy some soil for their roof garden. It wasn't a long walk from their place in Boerum Hill, where they have lived for the past six months. "We have a two-floor apartment," Ms. Hambleton said. "We live around some nice dogs. There are lots of trees—that's nice. Nice parks. Good restaurants. Everything's cute. Everything's really cute."
Ms. Hambleton, a Columbia grad employed by Creative Time, a nonprofit arts organization in the East Village, said she rarely goes to Manhattan except for work, finding the crowds, traffic, noise and high prices there vulgar and uninviting. Sometimes she can't believe how good her life in Brooklyn—her lifestyle—is. "It's like, wait, shouldn't this be harder?" she told The Observer, pausing outside a restaurant serving "100% organic, fresh, nourishing raw food" as well as juice, kale and vegan baked goods.
Perhaps you remember the New York Times columnist David Brooks' coinage BoBos—short for Bourgeois Bohemians? Those latte-slurping, SUV-driving, Pottery Barn-shopping, NPR-listening creatures of the Clinton era? Ms. Hambleton and her ilk represent a new variation on the species: Brooklyn Bourgeois Bohemians. BroBos! Young, comfortable and inclined toward creativity, they enjoy a utopian-seeming existence marked by strolls down tree-lined streets, carefully chosen foods and leisurely weekends spent in coffee bars and parks. An existence only occasionally marred by the realization that this is not the hopped-up New York they came to conquer.
It didn't use to be this way, after all. James Atlas, the president of the publishing house Atlas & Co., lives on the Upper West Side, and until relatively recently, when his daughter moved to Fort Greene, he didn't really know Brooklyn existed. Last week, he sat in his office in the Flatiron district and recalled a time when college kids intent on becoming novelists, actors, journalists, screenwriters, painters, dancers and editors came to the city knowing it would beat them up and deciding it was worth doing anyway. Back then you had to weigh your options, Mr. Atlas said, and wonder: "Is it worth putting yourself through this marathon ordeal to survive here in order to be in the most interesting place in the world?" Living in a cramped apartment, sharing a bathroom with everyone on your floor and a bed with your roommate who worked the nightshift—all this was "part of the deal" in 1977, when Mr. Atlas moved into his sublet on West 79th and Columbus.
"Expecting that you're going to be poor for a while is just not part of the literary culture now," said Mr. Atlas, who is 61. "There is a sense of entitlement, that the period of apprenticeship and relative deprivation can just be skipped. Everyone wants to belong to the culture of Condé Nast while at the same time writing their first novels. The messiness and even squalor of the early years of the creative life are seen as insults rather than preconditions."