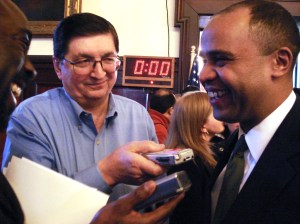 Former Bronx borough president Adolfo Carrión's tenure as President Obama's urban policy chief is over.
Late Monday afternoon, the federal Department of Housing and Urban Development issued a statement announcing that Mr. Carrión , who was the director of the newly created White House Office of Urban Affairs, will be moving to HUD as the regional director for New York and New Jersey.
He'll now report to HUD Secretary Shaun Donovan–one of three cabinet members with whom the Urban Affairs office was primarily charged with co-ordinating–who previously served as housing commissioner in New York City. The announcement also said Mr. Carrión would advise Mr. Donovan on intergovernmental affairs.
The optics of this suggest a step down for Mr. Carrión, since the regional director job, while well-regarded in the housing policy world, is generally held by those with less political experience. Public Advocate Bill de Blasio, for example, held the job in the Clinton administration, later vaulting into a spot on the City Council.
The Daily News recently reported that Mr. Carrión missed home, was bored in his job (he gave a less than thrilling keynote speech at the Regional Plan Association last month), and was considering another run for office. Unlike the more bureaucratic job at the White House, the HUD job would lend itself more to creating tangible accomplishments (such as funding affordable housing).
In his statement, Mr. Carrión suggested he had gotten the ball rolling at the Urban Affairs office, and was ready for something new.
"President Obama's bottom-up approach to addressing the nation's challenges is why I gladly accepted the challenge of being the first director of the White House Office of Urban Affairs," Mr. Carrión said. "Now that the foundation is poured and we are beginning to implement this strategy, I'm delighted to join my long time friend and colleague, Shaun Donovan, to fully implement this comprehensive urban development vision in my home region and across the country."