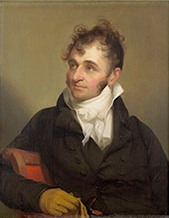 Artist Justin Lowe plans to recreate the CBGB bathroom at the Wadsworth Atheneum in Hartford, reports the Wall Street Journal:
Lowe's installation, up June 3 through Sept. 5, will take over four of the museum's galleries and feature walls papered in Day-Glo collages involving movie stars, vintage book covers and illustrations of insects.
The Wadsworth Atheneum was founded in 1842, and has always had a bit of a wild democratic streak:
Hartford art patron Daniel Wadsworth (1771-1848) founded the Wadsworth Atheneum to share the wonders of art with the public. In the mid-nineteenth century, average citizens had little if no exposure to fine art, antiquities, or beautiful objects. Only the very wealthy purchased paintings or decorative arts, and then only for their own enjoyment. Thus, Wadsworth's generous gesture was an exciting turn of events that raised the cultural fortunes of an entire community.
It is, however, in Connecticut.