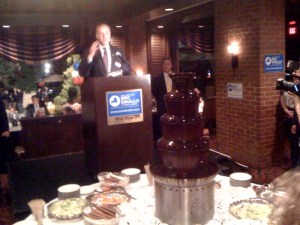 "I'm here to endorse …" Senator Chuck Schumer told a roomful of Eric Dinallo supporters, after being spotted in the back of Mr. Dinallo's reception and called to the stage. "No one!"
Mr. Schumer, who had just arrived at the state Democratic convention, slipped in during the candidate's speech, but the powerful senator couldn't remain hidden for long.
Mr. Dinallo had just finished his speech. "On financial regulatory reform–please, come up, because you're a hero for all of us," the candidate said.
"These are great events because we see just the great breadth of the Democratic Party in New York," said Mr. Schumer, who is hosting a morning breakfast with junior Senator Kirsten Gillibrand.
"For an elected official like myself to come here, just strengthens me, revitalizes me, just seeing everybody, talking to everyone, seeing our enthusiasm, seeing our strength. This is going to be a great November from the very top of the ticket all the way to the grass-roots level," he said to considerable applause.
"The chocolate smells good!" he said, before stepping off stage and helping himself.