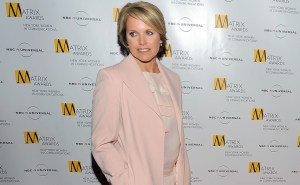 CNN and CBS are sizing each other up.
Negotiations between the two networks have broken down before over how CBS and CNN talent would fare in a partnership, according to New York's Gabe Sherman, but with Katie Couric's contract up for renewal next year the timing is good.
CBS News has previously expressed interest in recruiting CNN star Anderson Cooper, who already appears as a contributor to 60 Minutes. And next May, Katie Couric's reported $15 million annual contract with CBS is up for renewal. A combined CBS-CNN might offer more possibilities to negotiate Couric's new deal while giving her additional opportunities to showcase her interviews … One scenario is that if Couric vacates the evening news, she could serve as a replacement for Larry King while continuing to file reports for 60 Minutes.
The partnership would also allow the networks to share the cost of their news-gathering divisions, as NBC does with its cable franchises. ABC News recently lost nearly 400 staffers to buyouts and lay-offs after drastic budget cuts.
CBS, for its part, is in the mood to partner up. The network recently signed at $10.8 billion deal to share the NCAA basketball tournament with Turner Sports, after floating the idea of paying ESPN outright to take over the broadcast.