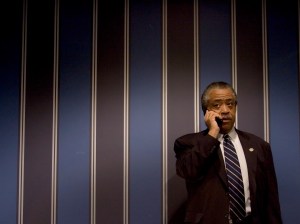 Andrew Cuomo called the Rev. Al Sharpton earlier today to pledge that, despite the lack of racial diveristy on the Democrats' statewide ticket, there will be diversity in his administration if he gets to the governor's mansion, according to a source briefed on the conversation.
Cuomo and Sharpton have also agreed to meet at some point in the near future to discuss the issue of diversity and minority represenation, this person said.
This has been an issue of quiet concern among attendees at the Democratic State Convention here in Rye.
Andrew Cuomo, Chuck Schumer, Kirsten Gillibrand, Tom Dinapoli and all the candidates for attorney general are white, though African-American and Latino elected officials—and voters—have long been a key component of the party's base.
Democrats made New York history when David Paterson became the state's first black governor, but Paterson is not seeking reelection, and no nonwhite person is on the ticket. (Gillibrand does have an opponent who is an African-American woman from New York City, but she is largely unknown and underfunded.)
The agreement to meet is the latest turn in the uncomfortable, sometimes awkward relationship the two have shared for years.
During his 2006 race for attorney general, Cuomo didn't show at a Martin Luther King Jr. Day event Sharpton hosted because he was giving a paid speech in Las Vegas. Weeks later, Cuomo donated thousands of dollars to Sharpton's organization, the National Action Network.
In late January of this year, when Paterson was still in the running for governor, Sharpton hinted that he might be a vocal critic of Cuomo, saying, "Let's let him announce and then I'll have a lot to say."
Paterson dropped out, and since Cuomo announced his candidacy, Shartpon has been mostly silent.