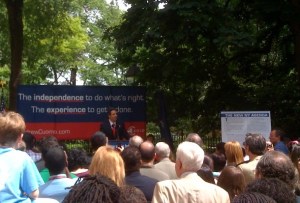 In a verdant little courtyard between the Tweed Courthouse and City Hall this afternoon, Andrew Cuomo gave his first speech as a candidate for governor, casting himself as a reformer bent on restoring New York State to its bygone days, when it was, he says, a model of state government.
"The chronic dysfunction of Albany metastasized into the corruption of Albany, and it was a bipartisan affliction," said Mr. Cuomo, who was introduced by a breast cancer survivor and following a series of speakers thanking him for his work as attorney general. "Albany's antics today could make Boss Tweed blush," he said.
Mr. Cuomo said he was old enough to remember the days when Albany "was an inspiration, not a degradation," and referred to his father, Mario, as "one of the greatest governors in history."
A board labeled the "The New NY Agenda" stood alongside the stage, and Mr. Cuomo referenced part of that plan–floated in The New York Times this morning–that, if elected, he will prune some of the state's sprawling bureaucracy. "Do we really need 1,000 state agencies?" he asked.
And Mr. Cuomo promised he'll visit all 62 counties in the course of campaigning. "It's time the people of the Empire State strike back," he said.
He departed the stage–without taking any questions–to the blaring of the Bon Jovi song "Work for the Working Man."