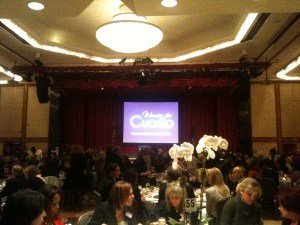 Andrew Cuomo hasn't publicly announced what he's running for, but members of his campaign team are emerging.
One addition is Jaime Peters, "director of New Media at Andrew Cuomo 2010." It's not totally clear exactly when she was hired, but she recently caught my attention.
It appears that Peters is needed–the campaigns's social activity is hardly at full speed. Although AndrewCuomo is on Twitter, and so is Cuomo2010, neither one of them have been used.
Peters herself is more prolific. At the April 28 fund-raiser at the Waldorf Astoria she tweeted:
3:39 p.m: "Suited up headed to an event where the ticket price could easily pay for two years tuition at SUNY. Imagine how all the $ couldve been spent."
7:56 p.m: "Shook hands with Hank Aaron and met Stanley Tucci. Holy. Crap."
She also snapped this photo inside Cuomo's April 15 fund-raiser at the Hilton, where reporters were barred and evaded.
My favorite though may be this entertaining April 7 caption: "Is sitting on a leather couch in her "boss's" office watching CNN and surfing the Internet with an amazing view of manhattan."
Twenty minutes later: "Just got caught :)."