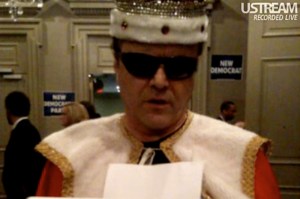 Curtis Sliwa crashed the State Democratic Convention in Rye Brook today, and delivered a screed outlining his plans for New York while dressed in a regal costume that helpfully identified him as "King Cuomo II."
Sliwa's speech cribbed heavily from his recent op-ed in the Daily News, though he managed to speak uninterrupted for several minutes before being escorted out of the building by security.
"Get your hands off–do you not know I am your king?" he said as the authorities showed him to the door.
Video below, courtesy of WNYMedia.net
As grandstanding goes, this still doesn't touch the time he chugged salt to protest Bloomberg's proposed crackdown, which can be found at 9:10 of this un-embeddable video.