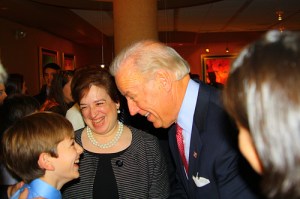 Rice says she and Cuomo are "like-minded."
Goldstein will look at term limits, partisan primaries, land use and city government.
Lopez talks charter schools.
Bloomberg opposes Jim Webb's bonus tax.
Benjamin interviews Benjamin, who says Paterson may have the upper hand.
Hawaii acts like NY-23, says Sargent.
Morahan's future is unclear.
Malpass hires McCain's fund-raisers.
Robin wonders: What alias does Bloomberg use when making restaurant reservations?
Vintage Morgenthau.
"Furlough you."
Liu in the Bronx tonight.
And pictured above is Elena Kagan and Biden, circa December 2009, via Flickr.