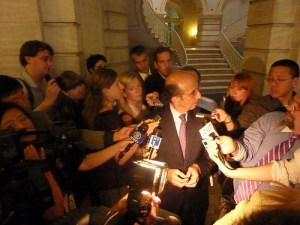 "MARKET CRASH!!!!!!"
A typo may have caused the plunge.
Who exactly?
Schumer draws McCain out.
Barber won't say what Levy says.
Levy reads POLITICO.
Vielkind's updated GOP numbers.
Lowey may get a chairmanship.
Celest Katz art: Levy as a mouth piece.

Hikind opposes Brodsky's organ donor bill.
Bloomberg and Paterson have a budget fight.
Littlefield: "As public services are gutted in FY 2011, remember that its debt service will rise by just $340 million."
DMI critiques Bloomberg's priorities.
Coffey likes redistricting.
The world is in one borough: "This year's biggest election battle is being waged on the lowest rung of the political ladder — a fight for a district leader post in the heart of Brownstone Brooklyn."
The Washington Independent eyes New York redistricting.
Saujani takes some abuse in the comments section.
Michael Benjamin departs [Added].
And pictured above is Schools Chancellor Joel Klein, after seeing his agency get slashed in Bloomberg's budget.