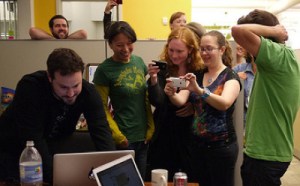 A small team of writers, editors, designers and programmers spent the weekend in Mother Jones' offices in San Francisco attempting to bring the magazine industry up to speed by producing an issue start-to-finish in 48 hours.
The team behind 48 Hour Magazine announced a theme for the issue ("Hustle") on Friday at noon to a list of volunteer contributors. The team raced through the over 1,500 submissions that came in before Saturday at noon, and then began editing and designing the issue to ship Sunday.
Gizmodo's Joel Johnson asked one of the editors working on the project, Mat Honan, what the magazine industry could learn from the project.
I've been thinking of becoming a family farmer because it seems like it might be a better long-term career move. Of course that's not true, I know magazines are rebounding. Yet I do think you're going to continue to see a winnowing down of major titles. There will be fewer major magazines on the stand, and those that are there will really have to prove themselves. But I also think there could be lots of room for niche players, like us, with weird models. Only magazines can save magazines.
It will be a week before anybody knows what "Issue 0" of 48 Hours Magazine looks like, but the project looks like it was a success. Before going to bed on Sunday, the team wrote that this will not be the only issue: "Are we going to do this again? Yes. Ask again tomorrow, but right now, hell yes."