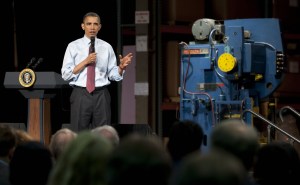 Editors at Newsweek are taking on extracurricular activities.
Managing editor Dan Klaidman has signed a contract with Houghton Mifflin Harcourt to write his first book, which will explore President Obama's anti-terrorism policy, according to Mike Allen's Playbook.
Danny calls it "a narrative that takes readers inside the administration's efforts to re-balance terrorism policies in the aftermath of Bush-Cheney-Addington-Yoo. By looking at the struggle to close Gitmo, the controversy over the KSM trial, how Team Obama handled the Zazi, Abdulmutallab and Shahzad cases and many other still-secret episodes in Obama's War on Terror, the book will explore the immense challenges of developing smart, tough, prudent and just anti-terrorism policies in an age of extreme political polarization."
Mr. Klaidman has a working title for the book—The Arc of Justice: Obama, Terrorism and the Struggle over American Ideals—which is due out in 2012. (We wonder how National Book Award–winning author Kevin Boyle feels about another book called Arc of Justice.)
This month Newsweek senior editor Jonathan Alter is coming out with his own Obama book, The Promise: President Obama, Year One, which follows the release of David Remnick's The Bridge last month.