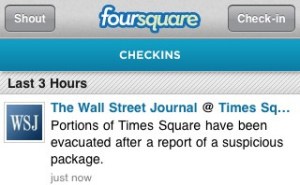 When Times Square was evacuated earlier this afternoon, The Wall Street Journal "checked in" to the area on Foursquare with a news alert: "Portions of Times Square have been evacuated after a report of a suspicious package."
This was the first time the Journal has used Foursquare to break news, according to a release.
The message was posted in conjunction with additional alerts and coverage on WSJ.com.
Checking in with an alert helped the Journal reach New Yorkers with breaking news in their city. Users who follow the Journal on Foursquare and were in New York at the time would have seen the alert at the top of their Foursquare timeline.
It's been said that the Journal is ahead of the Times when it comes to Foursquare.
Since the launch of its Greater New York section, the Journal has attempted to beat the Times' coverage (and so far come up short) and get at the Times with punny advertising (and been outclassed).
So what's the best way to stage a comeback? A late Friday afternoon press release about gains in social media. And, at least on this score, the Journal might have a better position.