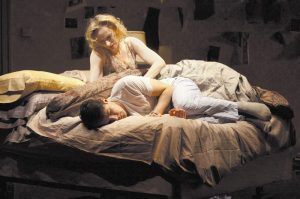 The 23-year-old British playwright Polly Stenham has an amazing talent. I worry she also had a miserable childhood.
That Face, her debut effort, written when she was 19, debuted at London's Royal Court in 2007 and then moved to the West End the next year, earning rave reviews and Ms. Stenham the Evening Standard's award for most promising young playwright. It's a devastating and somewhat shocking portrait of a wealthy British family in meltdown, and it arrived in New York last night, at Manhattan Theatre Club's Off Broadway space in City Center, in a powerful production directed by Sarah Benson (who last season mounted the far more shocking British play Blasted at the Soho Rep).
In their first scene, when the two awake in a mussed bed, it seems at first they're lovers; they make Big and Little Edie's relationship seem healthy by comparison.
As the play opens, daughter Mia has decided to slip some Valium-five pills-to the younger girl she and a schoolmate are hazing in their school's dorm. The overdose prompts a call to Hugh, Mia's father, who has effectively abandoned his first family for a high-flying finance job and a new wife and child in Hong Kong. He's flying back to London to deal with the situation, and to check in on Henry, Mia's amiable brother, who has dropped out of school to work on his art and care for his mother, Martha, an alcoholic who is obsessed with her son.
The relationship between Henry (a convincingly confused Christopher Abbott) and Martha (Laila Robbins, who gives her character plenty of pathos but never makes her a sympathetic figure)-they share a once-posh but increasingly squalid flat, in which they both adore and repulse one another-is at the center of the play. There are strong Grey Gardens elements here: the decrepit home, the absent husband, the former wealth, the mother and child's shifting mix of co-dependence and mutual contempt.
But Ms. Stenham isn't writing about real-life East Hamptonites; she's elegantly delivering her own, fictional story. (That she can craft it so well at such a young age is what makes one fear for her own youth.) She has also created a thick layer of psychosexual tension between Martha and Henry-indeed, in their first scene, when the two awake in a mussed bed, it seems at first they're lovers-that makes Big and Little Edie's relationship seem healthy by comparison. By the play's end, Henry, reduced to wearing Martha's dress and jewels, his own revolutionary costume, is unable to save his mother and is shattered.
That Face, about a family in which the selfish, manipulative parents destroy their children, is a damning portrait. But there's a small note of hope: Henry, unlike Little Edie, is ultimately ripped away from his mother, if, for the moment, unhappily. He has a chance.
MOIRA BUFFINI'S GABRIEL, which opened last week at the Atlantic Theater under the direction of David Esbjornson, is another British award winner about another dysfunctional British family.
This one, though, has a (little known) historical setting-on Guernsey, one of the British Channel Islands occupied by the Nazis during World War II-and a less naturalistic, indeed somewhat mystical presentation. It centers on a mysterious and handsome soldier who washes ashore and speaks both English and German perfectly. The family who finds him (this mother is in love with her son, an RAF pilot, only from a distance) assumes he's a downed airman; the local Nazi commander (with whom that mother is sleeping, in a bid to protect her family and estate) assumes he's a lost German sailor.
It's an intriguing meditation on identity and loyalty and what people do to get by in difficult circumstances. It's also a bit trite, generously employing nearly every World War II-story trope. (There's a secret Jew!) And its magic-realist tone-even the stage is tilted and skewed-serves to make the characters somewhat removed from the audience. The story never becomes fully engaging.
That leaves Gabriel, while well performed and interesting, more compelling as history lesson-who knew the Nazis occupied the Channel Islands? Or that the Germans built a huge underground hospital complex there?-than as drama.