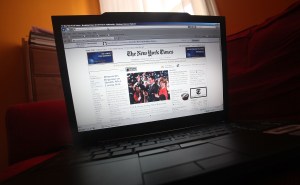 As far as we can tell, there are three significant reasons why Jill Abramson is getting a six-month leave from her managing editor duties to become the digital czarina. Here they are:
Integrate that Newsroom! And to Help with the Paywall
Obviously, this point can't be understated. The Times still needs to figure out how to fully integrate its newsroom. As Bill Keller explained in an email, she needs "serious time under the hood" before it actually happens in any real way.
Also, the timing of her move is obviously intriguing. Next January, The Times will introduce a paywall. Jill Abramson will be doing digital stuff basicially through the end of the year. This gives the Times newsroom a dedicated point person to talk to the business side about the paywall while it's under construction. It's a big message to Arthur, Janet, Martin and Denise that Jill will be available for any breakfast, lunch, coffee or dinner to talk paywall.
The Refresh Button
There hasn't been a whole heck of a lot of movement inside or outside The New York Times for the last three years. Not a lot of people have been hired, and other than two rounds of job cuts, not a lot have left.
The lack of movement inspired a whole series of changes late last year and early this year. Rick Berke, the traffic cop for the front page, became national editor; Jon Landman went from digital dude to culture editor; Suzanne Daley left as national head to become a writer; Sam Sifton left culture to become a restaurant critic; Trip Gabriel left Styles to write and report. Bill Keller referred to it as hitting the refresh button.
The decision about Ms. Abramson is essentially inspired by the same thing.
"Jill's been in that same job seven years this July," said an editor. "It's a job where you go to Page One meeting twice a day. You're involved in every big story. The oil spill and Afghanistan and coal mine disasters and everything else. It's a wearing job. She has a lot of irons in the fire. She teaches and writes about her puppy. She needs a break as much as anyone else."
It also gives foreign editor Susan Chira and business editor Larry Ingrassia–both of whom have been running their departments for more than five years–a break away from their jobs as they fill in for Jill Abramson. Same goes for Dean Baquet, who will get to come up to New York for a couple of months.
Empower the Deputies
After The Times made those department head switches, there was an undercurrent of frustration in the newsroom that the deputies, for the most part, were being overlooked. Rick Berke, who already had a big job, got another big job. Same with Landman. Same with Stuart Emmrich (who became the Styles editor). What about the deputies?
Well, with Chira-Ingrassia-Baquet stepping aside for two months each, that means deputies for three big departments (foreign, business, D.C. bureau) get to have fun for two months each.
Other Elements
O.K., so we haven't brought up the whole succession thing, since Bill Keller made it quite clear that this isn't about that! But nevertheless, Chira-Ingrassia-Baquet could all be in the mix when it comes time for a new managing editor at the paper. This isn't a bad trial run for them to impress.