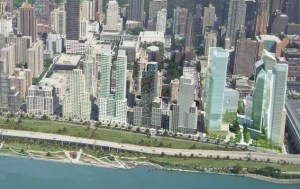 The fight over Trump City is about to have a reprise.
Extell Development's planned 2,500-apartment development on the westernmost portion of the Upper West Side is slated to start the city's seven-month rezoning process Monday. This sets into motion debate over the future of the last parcel of the larger Riverside South development, a giant array of apartment buildings along the West Side Highway first planned and developed by Donald Trump in the 1980s. Extell has named this parcel Riverside Center.
The proposed development, which calls for a set of residential towers surrounding public open space, has been hotly debated by the surrounding community for more than three years, since Extell began working to change the zoning (which was designed for a world headquarters for NBC). The development firm spent an extremely long period with its rezoning application pending with the Department of City Planning, as it went through the arduous environmental review process.
Now, the approval is given a distinct timeline, and it needs O.K.'s from the City Planning Commission and the City Council.
"This is a great first step for us," said George Arzt, a spokesman for Extell, "and we're thankful to City Planning."
First stop for Extell is Community Board 7, which has about two months to give a non-binding recommendation on the project. Many on the board, along with many West Side activists, have criticized the project for its bulk and the request for additional density beyond a framework agreed upon in the 1990s. Extell has said it is open to negotiation and has offered some carrots already, such as a new school.