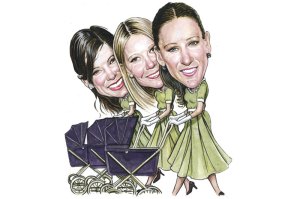 Midday last week, a 26-year-old woman we'll call Morgan opened the front door of her two-bedroom apartment in Williamsburg and apologized for being a little groggy. Morgan and her 2-year-old daughter, Kaitlin, had just awoken from a nap. Morgan was dressed in jeans and slippers; Kaitlin, a pink onesie and socks. Morgan's long-term boyfriend (and Kaitlin's father) was out on a freelance construction job. On the coffee table by the couch, the thin current issue of Time magazine—the one with the cover story dedicated to the 50th anniversary of the pill ("So Small. So Powerful. And so Misunderstood"), by Nancy Gibbs—was opened to page 45.
"When I read that article, I thought, 'Am I not a feminist because I chose to have children early?'" said Morgan, whose belly poked through her sweatshirt as she sat down. She is five months pregnant. "Honestly, being on the pill didn't make me feel like a feminist. It made me feel sick. Like a wreck."
'I think that means we've made it if we don't need to talk about it all anymore.' —Annie Horcasitas, 29, a former health-clinic worker and a mother of two
Morgan has long dark hair parted in the middle, kind eyes and a lanky stance. She was in grad school when she learned that she was pregnant. She made several trips to the abortion clinic—mostly directed there by her mother—but ultimately decided against it. Morgan asked that her name and her daughter's be changed for this article because, though her mother adores Kaitlin now, Morgan hasn't yet told her about the recent pregnancy. Morgan described her mother as a "total feminist" who came from a large Irish Catholic family; seeing her own mother perpetually pregnant, she put off having Morgan until she was in her 40s. "She traveled and worked and she wanted me to be able to do the same," said Morgan, who plans to return to school after her second child is old enough. "I feel like for a long time women thought being liberated meant having a career, but now you can do whatever you want," she continued. "And it's really fun having her in a place like Williamsburg because it's not like I'm a suburban mom."
Hearing Morgan talk about the pill, abortion and women's lib is a bit like talking to a Park Slope mom about canned peas: She has been raised on the stuff and fully understands its cultural significance, but she prefers sugar snaps from the greenmarket. The feminist battleground, with its slogans, marches, and campaigns for reproductive rights, has given way to the playground and the fight for lactation rights, stroller rights, school-system rights, unpasteurized milk rights, charter schools, birthing techniques, nutritional value of bagged lunches and water quality. It is not so much about the Fem as it is about the Fam.
"Women are defining themselves more by their families than they are by themselves," said Pamela Paul, a 39-year-old mother of three in Harlem and author of Parenting Inc. "It's no longer about something as selfish and self-advancing as abortion or the pill."
The recent stories in Time ("The Pill") and Newsweek ("Remember Roe!"), themselves artifacts of another era, feel distant from the mainstream discourse of what we have started to think of as Faminism. "They were sort of like baby boomer stories!" said Ms. Paul. "Most of the stories you read these days about 'women' have to deal with them as mothers. Even the celebrity causes—could you imagine Julia Roberts stomping in Washington for abortion rights? But you can totally see her being there for green schools or something."
Indeed, you can't swing a dead cat in Hollywood these days without hitting a famous Faminist: Julia was reportedly bumped recently from a People cover by Sandra Bulllock and her secretly adopted son; Iron Man star Gwyneth Paltrow, all about proper meals for Apple and Moses, is mulling a third child; and Sarah Jessica Parker—whose upcoming Sex and the City 2 movie seems like a sad relic of the late-'90s credos of do-me and lipstick feminism—is toting around twins she had through a surrogate. And what is that adorable movie we keep seeing previews for? Oh, right … Babies!
SLIDESHOW: 9 Women Who Prefer Prams to Politics >
'NOT A HOT-BUTTON ISSUE'
Since March, there have been ads on the New York City subways, placed by something called the Vitae Caring Foundation, featuring "edgy" people—including an attractive, unshaven man resembling the artist Matthew Barney and a young girl with a bleached pixie haircut—and the subtle slogan: "Abortion Changes You." On April 17, a pro-choice rally against the ads was held in Union Square; eight people showed up. Oh, what, you didn't hear about it?
"In my 20s, a woman who did not get an abortion was extremely rare, and for women to talk about it was almost like a rite of passage or badge of honor," Ms. Paul said. "It was almost like, 'My political is so personal and let me tell you why.' Nowadays, you don't hear anyone say they've had an abortion."