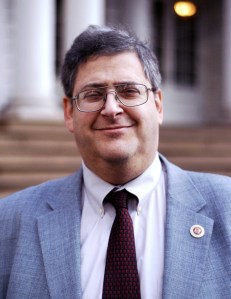 Lew Fidler, who's in his third term as a councilman in Brooklyn, had a pretty impressive fund-raiser last Thursday, stirring some speculation about what he's is planning to do next.
The event was packed. Money poured in. Oh, and it happened on the same night as a fund-raiser held by Democratic County Leader Vito Lopez, whom Fidler used to be close with, but is much less so nowadays.
Fidler's event was at Temple Sholom in Mill Basin, and was for the benefit of two Filder entites–his Democratic club, and a campaign committee he uses to run for district leader [corrected].
Never one to have a close relationship with the mayor, and now having less support from his county leader, Fidler is in a precarious position. How many enemies can you have before you run out of friends? Fidler's fund-raiser was his attempt to flex his muscle and demonstrate that not only is there another power center in Brooklyn, but that it's his.
One knowledgeable reader emailed this description of the crowd at Fidler's fund-raiser:
"A mix of political power players like Emily Giske, Mike Tobman, Patrick Jenkins and David Keisman, Union reps from the UFT and DC 37, and a wide spectrum of community folk from all over Brooklyn."
Fidler is in his final term in the City Council. What'll he run for next? City Hall News speculated he's interested in being a district attorney.
Fidler tamped down that talk in an email to me. But he did say, "I do not intend to ride off into the sunset."
Fidler:
"I don't know Azi. I really don't. I have a philosophy about these things. If you do your current job and do it well, opportunities present themselves. I am not going to spend the next three and a half years running around the city trying to fit a round peg into a square hole. There are a lot of ways to serve. I do not intend to ride off into the sunset. I guess I am proud of my record, proud of the nice array of core support that I have as evidenced by the Club dinner, and maybe even especially proud of the diversity of that support."