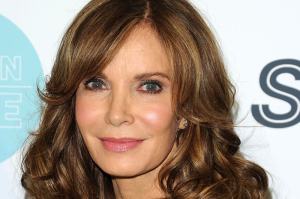 Last Thursday night, at the opening of Housing Works' sixth annual Design on a Dime event-a kooky funhouse featuring 49 showrooms each by a different (clashing) designer-everything was for sale. We do mean everything. In Jaclyn Smith's room, photographs of the Charlie's Angels actress with her family from the 70's could be purchased for $10.00. There were also faux zebra stripe chairs.
"The vibe is Hollywood," Ms. Smith told the Transom in her Texas drawl. The walls of the room were adorned with retro pictures of the actress/designer: "The only bachelor Angel is a nice old-fashioned girl," a copy of People from 1978 read, Ms. Smith with feathery blow-dried hair smiling on the cover. "And trying to do something about it."
"It was their idea," Ms. Smith sighed. She never specified who "they" were.
Design on a Dime, which coincides with Housing Works' 20th anniversary, is one of three annual events that help keep the charity thriving. The organization gives housing to homeless adults living with HIV or AIDS (and also provides New York with some of its greatest thrift stores). In preparation for the event, Ms. Smith renovated the rooftop of the East Village Cylar House. The residence provides studio apartments for 36 adults living with HIV or AIDS, and now a stylish social gathering place.
"It's like a fairy God mother came and blessed a rooftop," Ms. Smith said. "It's gonna do such good there."
Meanwhile, Extreme Makeover: Home Edition's Ty Pennington was closely examining a shot glass filled with cucumber soup sitting on an hors d'oeuvres tray. He furrowed his brow deeply. "It looks so much like a smoothie," he said then turned down the concoction, shifting his gaze instead to the Transom to elucidate his room's aesthetic. He raced energetically around the space, a "throwback to Americana" and "very masculine" as he called it, talking faster than we could keep up.
"I design a different room every week," he said out of nowhere, then turned to inspect some 300-thread count sheets: "I was experimenting with tie-dye in my backyard and-"
Wait. What?
"When I'm not working on 18 other projects, I like to do something for myself," he explained matter-of-factly.
The hit of the night, though, was Derek Warburton, who managed to sell nearly everything in his room. His style?
"French fierce!" he said with a snap of his fingers. The wallpaper was constructed out of scanned photographs of jewelry. Everything boasted big, loud colors. Mr. Warburton didn't have to think twice about the design's impetus.
"I live for Funny Face. I've watched it every month since I was a child."
Mr. Warburton wore an outfit that was a swirling kaleidoscope of color, matching the room's wallpaper. He almost blended in with the room.
"I'm full look, bitch."
Well!