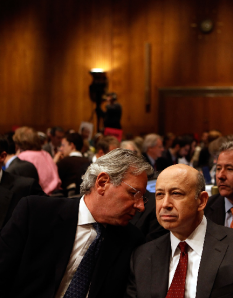 When The Observer profiled Goldman Sachs spokesperson Lucas Van Praag in February, the bank's communications had been consistently ferocious, prim, dismissive, and gloriously debonair. Mr. van Praag had gone on the record, for example, denouncing criticism of the bank with the phrase "chimera produced by a febrile mind." So when his responses in today's big New York Times story, "Clients Worried About Goldman's Dueling Goals," sounded undersized and dull, New York's Jessica Pressler declared that Mr. van Praag had descended into drabness.
There was nary a Victorian put down in sight! The writer Heidi N. Moore even took to Twitter to complain.
But they don't need to worry. Today, Goldman Sachs posted the full exchange between Mr. van Praag and The Times, introducing the transcript with this: "The article includes grave inaccuracies, cites accusations from anonymous sources and is fundamentally misleading." The answers that were used in the article are bolded by Goldman to show that "selective portions of our responses" were chosen by the newspaper.
Even if Mr. van Praag hasn't used antique adjectives recently, the lesson is that nothing much has changed about the way Goldman communicates with the world. For example, back in 2005, after the bank was linked to both sides of the New York Stock Exchange's takeover of Archipelago, its response was so terrifically smug ("Life is full of conflicts, real and imagined," Mr. van Praag said), that a conspiracy Web site picked it up. This time around, today's story was about Goldman's conflict between making money for a client and making money for itself at a client's expense. The paper even reported on an unspoken principal at the bank that says if you're not embracing conflicts, you are not being aggressive enough. "We're not aware of this so-called 'unwritten principle,' but every large financial institution, in fact virtually any business in any industry, has potential conflicts," Mr. van Praag responded, according to Goldman's site.

Goldman's aggression will not go away, as the bank itself has said. "The approach we've adopted to media coverage is that we aggressively rebut and refute reports or commentary that we believe are wrong," Mr. van Praag said recently. "And if you want it to be noticed, you've got to make it notable."
Update: Here's an interesting Goldman acid test. Yesterday afternoon, Reuters' Felix Salmon wrote about a company called American Homeowner Preservation, which has an immensely reasonable plan that would keep a family from Windham, Ohio, in their home of 18 years. But the Goldman Sachs–owned Litton Loan Servicing has essentially gotten in the way, and the family's house faces a sheriff's sale on May 24–next Monday. It will be interesting to see what happens. (Here's a start).