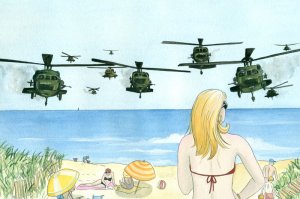 Earlier this month, police arrived at the home of the Schirripa family on Cox Neck Road in Mattituck, a sleepy town on the North Fork of Long Island due north of the Hamptons. The two-decker house is painted a fresh white, and a welcome wreath with a plush bunny rabbit holding a garden hoe hangs from the door. The only thing out of place was an open bag of plant fertilizer stashed behind an unfinished Adirondack chair on the porch.
The officers ascended to the second floor and entered the bedroom of Katie Schirripa, a blond 21-year-old who lives in the house with her parents. A Sopranos poster dangles near the dresser, which the police opened straightaway. In one of the drawers, where most girls would perhaps keep their underwear, the police discovered 56 bags of heroin packaged in wax paper bags stamped with names like "Google" and "Privilege."
Authorities fret that a growing local heroin problem, combined with recent improvements in the economy, could yield a narcotics epidemic.
Ms. Schirripa, a former cheerleader at Mattituck Junior/Senior High School, is a key character in an investigation that produced the biggest drug bust in Hamptons history. Shawn Petretti, Ms. Schirripa's former principal, described her as "a very popular girl with good relationships with faculty and staff." A former classmate said she was "one of those people who always spends time with their family." But according to investigators, Katie Schirripa was also a central cog in a massive drug-distribution ring that trafficked millions of dollars in heroin from Ridgewood, Queens, to the Hamptons and other towns on the East End.
VIEW SIDEBAR > DRUGHAMPTON: LONG ISLAND'S PLAYGROUND TO THE RICH HAS A RICH HISTORY WITH ILLEGAL DRUGS
The bust, by the East End Drug Task Force, was the culmination of a nine-month undercover operation-a deftly choreographed ballet involving wiretaps, undercover drug deals and, finally, eight search warrants resulting in 20 arrests of suspected dealers, including Ms. Schirripa, and the seizure of 4,430 bags of heroin, 5.6 ounces of cocaine, assorted drug paraphernalia and $173,000 in cash.
At the time, the bust produced little in the way of publicity. But in the run-up to the Memorial Day weekend, cops across the East End are pointing to it as part of an expected crackdown timed to coincide with the arrival en masse of the region's tony seasonal population. Recreational drug use has always been a fixture of Hamptons life (see sidebar). But this year, authorities fret that a growing local heroin problem, combined with recent improvements in the economy, could yield a narcotics epidemic. "The timing was such that we could make the bust preempting the beginning of the summer season," Southampton Town Supervisor Anna Throne-Holst told The Observer.
In one sense, the cops are lucky: In terms of a deterrent, it doesn't get much better than Katie Schirripa.
IN MIDDLE SCHOOL, Ms. Schirripa was a striking girl, with long legs and blond hair that bounced off her shoulders when she turned her head. She made the cheerleading team in junior high but dropped out after her freshman year. As she got older, Ms. Schirripa's looks faded, her face taking on an unhealthy pallor. By senior year, her complexion had turned gray, her once attractive square jaw had become hard and graceless and, friends say, she had developed a full-blown heroin addiction.