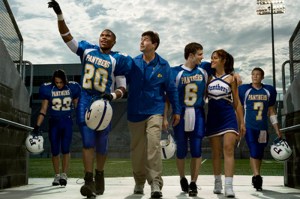 Whatever you may be doing on Friday night, chances are you're not watching Friday Nights Lights on NBC. Now entering its fourth season, FNL (as it is known to devotees) is the best show on TV that no one watches. Last year, it was the 127th-most-watched program on network TV.
In all the endless dissections of how NBC has dug itself a huge hole in entertainment programming—the short-lived Jay Leno Show being Exhibit A—FNL gets nary a mention. But it is worth studying, for how it has managed to avoid the hook and how it has maintained a core of heart and optimism without being overly shlocky. Because FNL is based on the 1990 book of the same name by Buzz Bissinger, which was turned into a 2004 film directed by Peter Berg, its appeal is limited both by the ordinariness of its setting and the football anchor. Mr. Berg, the show's executive producer, says FNL's lack of mainstream popularity has worked to its advantage. "It's one of the blessings of having a very low-rated TV show that stays on the air: You're not asked to do preposterous things," he tells me. "There's not a lot of Naval crime in West Texas. In fact, we marvel at the amount of Naval crime that is going on right here in Los Angeles!"
Actually, the show's second season did go slightly awry, with a murder plot involving the characters Landry and Tyra (played by Jess Plemons and Adrianne Palicki), but the third season's story line brought the show poignantly back to basics. It's probably not a coincidence that the third season was co-financed by DirecTV, in return for the show being aired exclusively first on the satellite service before it ran on NBC. It might even be a model for the future: With television changing so quickly, how long will it be before Google or Apple starts financing shows so that they run on YouTube or iTunes first?
Regardless, part of what makes FNL so great is that it is in many ways the polar opposite of the glitzy but cynical Gossip Girls—though some of its stars are just as box-lunch cute—and it's a rare reminder that nuance and character may still have a place on the broadcast dial. Set in the fictional town of Dillon, FNL has its center the steely Coach Taylor, played by Kyle Chandler, who balances football with family life with his wife, Tami (Connie Britton), a school principal who manages to get herself into tangles but always says exactly the right thing. The rest of the cast is just trying to either get through school, out of town or out of trouble. And there isn't a product placement in sight.
Some of the best cable shows on TV stay that way by essentially blowing up and reinventing themselves—think of the way Weeds creator Jenji Kohan literally burned to the ground the subdivision where the early seasons of her show were set, or how last season's Mad Men ended with creator Matt Weiner moving the show's principal actors away from ad firm Sterling Cooper. FNL has the built-in turnover of students graduating—this season, for example, there is very little of previous years' stalwart Minka Kelly and no sign of Ms. Palicki. Instead, there are a half-dozen new characters alongside regulars like Mr. Plemons and cast dreamboat Taylor Kitsch. But Mr. Berg and his team have taken the concept a step further: forcing the revered Coach Taylor out of his successful and mostly white-bread West Dillon High (where his wife happens to be principal) to the shambling East Dillon, which looks more like South Central L.A. than any place down-home.
This sets the stage for a great tale of rebuilding a franchise against horrible odds—something that ought to resonate with the network that is airing the show.
rsiklos@observer.com