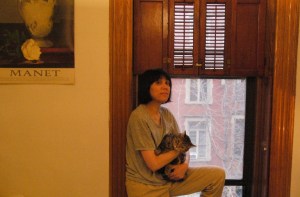 Editor's note: How Do You Live is a new weekly feature on Observer.com about the habitations of New York's notables. This is the first one. Next week, we visit Lockhart Steele, publisher of the Curbed Network.
Joyce Cohen, a writer who has delved into great New York apartment finds weekly since 2004 in her New York Times column, The Hunt, loves the Upper West Side. She's lived there for 15 years, in fact, in a studio rental with ceilings that are "too high," a dramatic wooden window, and a few feline friends. We stopped by her place on a Thursday to see just how the chronicler of the New York apartment scene lives.
1. How did you find your apartment and when?
I found it 15 years ago through an agent, Bobbi at Brusco. The fee was 15 percent of a year's rent. I don't think I knew then that broker fees were negotiable.
2. What are the top five things in your apartment that you can't live without?
1. The two feline presences, Rose and Lily. They are named for my grandmothers.
2. The little wooden stool that came from the Salvation Army on West 46th Street. It cost $10. It serves as my desk when my laptop is on it and as a cat perch at other times.
3. The Elfa closet in the bedroom. It was installed by the previous tenant. The landlord was going to restore the closet to its original condition, but I stopped him in time.
4. The classic Western Electric 500 series landline phones. A rotary phone is in the bedroom and a touch-tone phone is in the living room. They date from the days when you had to rent your phone from NYNEX.
5. The many over-the-door hooks. That way, things can be hung high up, out of a cat's reach. You can never have enough hooks or towel racks.
3. Which thing in the apartment has the best back story?
Everything in the apartment has a back story. Most of the furniture is old stuff from my parents, before their taste turned bad. My father's childhood bedspread is a chair slipcover. The bedroom curtain, with a leaf pattern, was sewn by my grandmother.
4. Which room do you spend the most time in and why?
The living room, which is the bigger, brighter room. There's not much choice, because there are only two rooms. I have just rearranged the furniture to account for a new, smaller couch. It's 61 inches wide. The old one was 81 inches.
5. Your neighbors—kept close or at arm's length?
Depends. I am good friends with my downstairs neighbor, cordial with the rest. I know eight of the 10 households in the building.