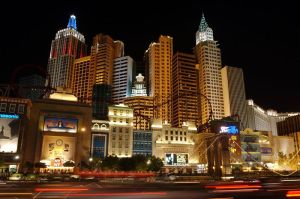 Maligned by politicians (including the president-twice) and busted by the boom, Las Vegas isn't the place you'd think there'd be a lot of optimism.
But Joanne Podell, a Cushman & Wakefield executive vice president, smiled as she headed to her dinner table at The Joint in the Hard Rock Hotel. Here she'd feast on filet mignon au poivre and laugh at comedian Kevin Nealon at the International Council of Shopping Centers' awards gala in this rock-star-themed Las Vegas hotel casino, the scent of patchouli hanging in the air, rather than the smell of new money.
"I see a clear difference in the attitude of the people here for the convention," said the Madison Avenue agent, whose client list includes Nike and Ann Taylor. "People are much more in the dealmaker mode."
The New York accent heavy in the room (near her was new Cushman & Wakefield president and CEO Glenn Rufrano), the elite cocktail crowd included dealmakers from around the globe.
About 35,000 commercial real estate professionals started the two-and-a-half-day RECON, the international council's annual global retail real estate convention, with a Sunday afternoon shot of espresso from council president and CEO Michael Kercheval ("Some projects were maybe overly optimistically developed. … We are definitely poised for progress.") and the folksy, small-government rhetoric of Sarah Palin. ("The airline lost my bag so we had half an hour to scramble; thank you, Lord, for shopping centers.") She didn't miss the opportunity to defend her drill-baby-drill chant as the Gulf Coast fills with black gold.
Despite Ms. Palin's two standing ovations, some agents discreetly rolled their eyes afterward, knowing that public monies are essential to their business, particularly for urban developments that need it to spur private capital.
"Public-private partnerships are coming back again; the cowboy private equity-you're not going to see that anytime soon," said Monge Capital Group Managing Partner Jeffrey Monge, who works with developers in Manhattan, Brooklyn and Jersey.
FOR SOME RETAIL professionals-including Ed Manner, Parker 3D senior designer, who said 2009's optimism was "based on desperation, now the optimism is based on facts-the optimism is as real as it can get. Robert Futterman, chairman and CEO of Robert K. Futterman & Associates, said he felt a renewed life at this convention compared to last.
Joseph Aquino, Prudential Douglas Elliman executive vice president, has 20 properties available in New York City and the Hamptons and back-to-back appointments during the convention to shop them. In the last year, Prudential leased 30 of its 39 stores available on Madison Avenue. Soho needs help, with nearly 90 shops available. But he has no doubt they'll go- eventually.
"There are eight million people in Manhattan and 44 million tourists, so there's a built-in market that's not going away. You can't be poor and live in Manhattan anymore," Mr. Aquino said following his round-table discussion on globalization, in which he read from crumpled paper torn from a spiral notebook. New retailers scrawled on it: Kusmi Tea, from India; Who.A.U., affordable South Korean clothing; Uniqlo, Japanese fast fashion. From memory, he recited their new locations, from Third Avenue to 34th Street.
Lease rates are down 20 to 30 percent in the last year, Mr. Aquino said, so businesses are taking advantage of the good value for prime leases.
Leslie Goldblatt, who is partnered with her mother, Charlotte Goldblatt, in Goldblatt Associates, sat at the same table as Mr. Aquino, nodding enthusiastically through his rundown of the global who's who. The Upper East Sider said she was encouraged to focus on overseas retailers. This premier networking event brings her family-owned company shoulder-to-shoulder with the top real estate firms in the country.
"Large retailers are coming from places like South Korea and India and that's a change of thought process for me-to look global," she said.
But all this cheer has some wondering if the retail sector is pushing the economy to improve before American consumers are ready for it.
"We have not seen the robust retail recovery that we expected to see soon," said Matthew Bruck, RICS Americas managing director. "And we won't know until we see where the regulation of the financial market is going."
He's waiting to see if any other big media would follow Condé Nast to the World Trade Center, which has seen interest from midtown because of the incentives from landlords and the government.
YOU NEED ONLY look outside to Las Vegas and see the trough of the retail market. The face of worry, with uncertainty etched around his tired eyes, is developer Eric Rosenberg, who owns Boulder Crossroads in east Las Vegas. He has properties elsewhere, including in Austin, Texas, that are doing well, but not Vegas. The Wal-Mart opened three years ago, and today he still has a distressed property, with only 50 percent occupancy.
He attended the Hispanic retail reception in hopes of mingling with some retailers who could bring in business that fits his demographics. Mr. Rosenberg is conscious of Vegas' lag, but also isn't willing to make any guesses as to its recovery. He's looking to fill 30,000 square feet and is confident that he could get some bites over the next few days.
"I don't have a crystal ball," Mr. Rosenberg said. "But if I did, I wouldn't be here right now. I'd be on a beach."