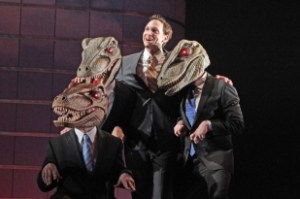 Enron is closing, despite its Tony nominations. It seems America is not yet ready for an elaborately-staged docudrama of economic woe.
Or: some alternate explanations, courtesy of the Guardian (UK).
1. The wrath of Ben Brantley: "No serious play on Broadway can survive a withering attack from the New York Times, which carries the force of a papal indictment."

2. Flashiness: "The entrenched American view that visual pyrotechnics and razzle-dazzle are the province of the musical."

3. Resentment of the young and foreign: "A lingering suspicion of a young British dramatist's right (Prebble is in her 20s) to tackle a profoundly American subject."
Future bards of economic disaster should bear all this in mind.