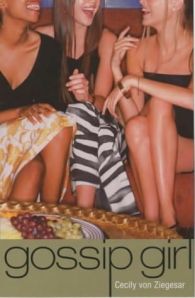 Gossip Girl is getting boring: even holdout parents scandalized by the source novels are giving up the fight.
Back in 2008, Florida mother Tina Harden checked several Gossip Girl books out of the public library and refused to return them, in order to protect young readers from their objectionable content.
After a recent Orlando Sentinel article on her actions received more than 200 comments, she has returned the offending books:
"There was a certain amount of good that could come from me holding the books to make a statement, and I felt like that was achieved," said Harden, who has three teenagers. "I feel like I had done my part to help focus attention on this."
Harden adds that she hopes the library will waive her $85 in fines.