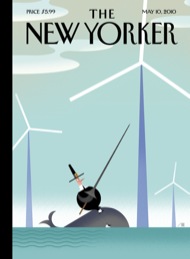 Sparksheet has an interview with Blake Eskin of The New Yorker, who was hired in 2006 as the magazine's first web editor. They ask Eskin about the the challenges of maintaining an "iconic magazine brand" while also serving as a "web evangelist."
Elkins says that Newyorker.com's immediate goal, like that of other Conde Nast websites, is to encourage print subscriptions. But even that requires web-friendly tactics. There's some dabbling in linkbait–David Remnick once did a list of "100 Essential Jazz Albums"–and the occasional funny animal picture:
We also did a contest on our books blog called Critterati, encouraging people to dress up their pets as their favourite literary character. We're aware that people like looking at pictures of dogs and cats on the Internet but if we threw all our energies into this stuff we obviously couldn't support the kind of journalism we do. You can't send someone to Rwanda for a month on the kind of revenue earned from pictures of cats!
Truer words were never spoken.