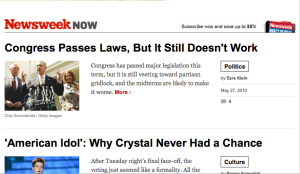 Newsweek launched a redesigned Web site last night. The new design is aimed at making the latest news on the site easier to find.
The new site seems purposefully stripped down and straightforward, with only one top story and a downward scrolling feed with the latest items at the top. There is also a sidebar, a wire of sorts that links out to different articles around the Web selected by Newsweek editors.
We feel it's an improvement! The old site felt overdesigned. There was a bar at the bottom for readers to find out what they missed in a whole week, which seemed like a great idea but was difficult to use. There were also plenty of other tabs to get lost in (we're thinking of the forward and back arrows at the top of the old page where you could scroll through pullquotes and headlines of different articles in case something caught your eye). There are plenty of places to graze for news on the Internet, and Newsweek didn't need to be one of them.
"Two words guided us as we reconceived Newsweek.com: simplicity and clarity," wrote Mark Miller, editor of Newsweek Digital, in a post introducing the new look.
Mark Coatney, the man behind Newsweek's Tumblr, explained that the site's commenting system has been overhauled as well.
The Washington Post Co. sales book touted the relaunched Web site as one of the property's few bright spots.