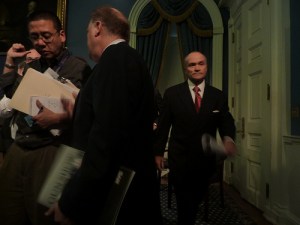 Geoffrey Gray has a lot of great details in his piece for New York magazine about Police Commissioner Ray Kelly. (Kelly met with GOP consultant Scott Reed about a 2009 mayoral run; Kelly's wife gets rides from an NYPD official.) But what caught my eye were the dollars Kelly helped raise through a non-profit that benefits the NYPD, and perhaps, himself:
Gray:
He recently recruited Bloomberg's old crush Sharon Stone to appear at a benefit for the New York City Police Foundation, a nonprofit that funds many of Kelly's projects.
The foundation has also helped Kelly revamp his and the NYPD's image. In 2007, the foundation hired HL Group, a marketing company that promises to "increase brand equity" and "furthers client presence at an exponential rate within respective circles." The foundation put HL Group on an $8,500-a-month retainer, according to a foundation source. While it has been blurry which brand HL is boosting—the police commissioner's or that of the foundation that pays the bills—Kelly has proved to be an able rainmaker in the black-tie crowd.
Also, police leaks are aggressively hunted down.
Among rank-and-file cops, talking to a reporter has become a career-ending liability. In February 2006, when Imette St. Guillen, a 24-year-old student at John Jay College, was raped and brutally murdered after leaving a Manhattan bar, information about the homicide was leaked to the Post. In response, Internal Affairs, which reports to Kelly daily, oversaw an extensive investigation to find the source. Thirty-three cops of all ranks were asked to turn over ("dump") their private cell phones to Internal Affairs, so agents could dig through the dialed calls to ferret out the leak.