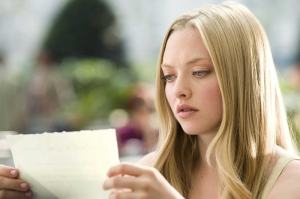 There's nothing wrong with a squishy, sentimental romantic confection now and then. But Letters to Juliet is a mere lollipop. It's gone before its 101-minute running time expires, and you're left with the stick.
A perky fact-checker and aspiring journalist named Sophie (the wide-eyed, look-at-her-she's-everywhere Amanda Seyfried) arrives in Verona, Italy, for a vacation with her fiancé, a self-involved chef named Victor (Gael García Bernal), to gawk at the vineyards, breathe the fresh air and bask in the beauty of Tuscany. They have such different interests that it seems like a hopeless match from the start. Victor is no Romeo, but Sophie is spellbound by the romantic notion of being in the same vicinity as Juliet's star-crossed romance. As Victor bounces around checking out the food and wine, Sophie's tourist map leads to the Capulet house and Juliet's balcony, where she finds, hidden in an old wall, a secret letter penned decades earlier by another young tourist, a troubled British girl named Claire, and addressed to Shakespeare's doomed, lovesick adolescent. Impishly, she answers the letter in Juliet's own voice, urging the long-lost Claire to sally forth regardless of her age, and find the boy she loved and lost that sunny Italian summer years ago. As ridiculous as this all sounds, it gets sillier.
Fifty years after writing the letter, Claire turns up as an elderly widow in the guise of (would you believe?) the great Vanessa Redgrave. (Yes, it's possible to go slumming, even in Verona.) She has dragged along her rude and thoroughly obnoxious grandson, Charlie (Australia's Christopher Egan), who doesn't much care for rhyming moon, June, and spoon. Naturally, he changes. While everyone searches for love, Victor searches for mushrooms, and the rest of us are treated to a guided tour of gorgeous Tuscany that looks composed out of outtakes from Under the Tuscan Sun. It's all maddeningly predictable enough to keep you checking your watch, and despite the actors' camera-stealing close-ups, it is a colossal waste of all of the talent involved. The enchanting Ms. Seyfried, who is showing up all over the place these days on worldwide screens both large and small, is much worse in the dreadful Mama Mia!, but much better as Julianne Moore's lover in Chloe and Bill Paxton's daughter in the HBO series Big Love. It's rather gloomy to see Ms. Redgrave lower her standards. By the time the old people find each other in time to prove love never dies, you may find the happy ending too preposterous to stifle a guffaw. More shocking is the fact that the usual charms of Mexican heartthrob Gael García Bernal at last appear utterly resistible. The bland direction by Gary Winick (who fared better in 2002 with the fresh, Holden Caulfield-styled New York coming-of-age story Tadpole) and the sappy dialogue by Jose Rivera and Tim Sullivan never once threaten to upstage Italy. Nothing can take the place of the terrace farming or the monastery vespers at sundown that personify Tuscany, so Letters to Juliet comes off as just another movie that makes you long for a trip to Northern Italy-but not with any of these people.
Running time: 101 minutes
Written by: Jose Rivera and Tim Sullivan
Directed by: Gary Winick
Starring: Amanda Seyfried, Gael García Bernal, Vanessa Redgrave, Christopher Egan
2 Eyeballs out of 4