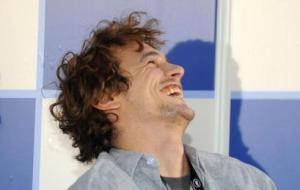 Summer vacation is no time of leisure for James Franco: Not when there are films to make, underprivileged children to help, performance art to perform.
James Franco has given the gift of James Franco to 826 Valencia, Dave Eggers' educational non-profit. One raffle winner gets time with James Franco, and the children of San Francisco get the proceeds:
For only $25, you can enter to win a chance to collaborate with actor/writer/director James Franco on a short film starring you. Are we kidding? No! We aren't kidding!
The raffle will take place Monday.
But this is not all. Next month he returns to General Hospital, an act of performance art that involves playing a performance artist who shares his name. According to TV Guide:
The actor, 32, will reprise his role as performance artist Franco on the ABC soap starting June 30, the network announced Tuesday.
Franco (the character) returns to continue his "obsessive vendetta" against Jason (Steve Burton) that will leave the hospital in peril, the network said.
Ah yes: Franco "the character."