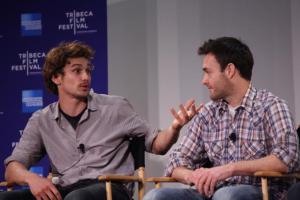 Pan-achieving poster-boy James Franco screened his documentary Saturday Night on Sunday at the Tribeca Film Festival. The Times reports that Mr. Franco was given "wide-ranging access," unearthing such nuggets as:
Most of the "SNL" cast and writers seem to operate with at least some level of sleep deprivation, owing largely to the overnight Tuesday evening to Wednesday morning writing sessions. Seth Meyers, the head writer and "Weekend Update" anchor, says he has dreams in which he is writing skits for the show.
And:
Mr. Moynihan smokes. So does Mr. Franco. Bad Mr. Moynihan! Bad Mr. Franco!