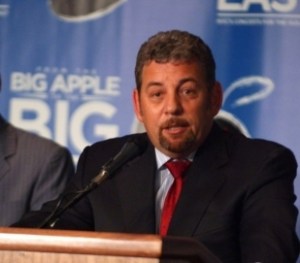 Following James Dolan-owned Rainbow Media's purchase of Gothamist, Foster Kamer poked fun at Mr. Dolan on The Voice's Runnin' Scared.
Three days later Independent Film Center, also a Rainbow Media property, pulled all of its advertising, worth some $20,000, from the paper, wrote Mr. Kamer.
Now LiveNation, which does all the ticketing for Madison Square Garden (also owned by Cablevision), has now joined IFC in pulling its ads from the paper. Mr. Kamer said it will cost the paper over $1 million in advertising revenue.
Voice editor Tony Ortega said that representatives from The Voice's business side "talked to people at Live Nation that said, yeah, Dolan asked us to pull the ads."
One million dollars is a lot of money! We asked Mr. Ortega if there was any chance Mr. Kamer would get into trouble.
"No, we encouraged him," said Mr. Ortega. "You saw what he did today."
And, Mr. Ortega, was this a fair response by Mr. Dolan?
"I don't know Dolan well enough to understand why he's so sensitive about his penis," said Mr. Ortega.
Previously: Cablevision Triples Income, Newsday Slows Bleeding>