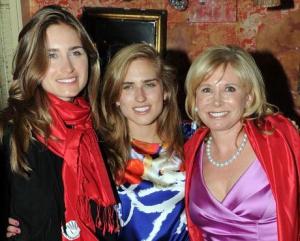 Despite stifling humidity, all the guests at a Mother's Day luncheon hosted by Lauren, Ashley and Sharon Bush at the East Side Social Club on Tuesday, May 4, arrived looking fresh, chic and bouncy-haired. "I just went to Oscar Blandi like an hour ago," admitted Tinsley Mortimer. "It's like a block away; it's great!"
Eleanora Kennedy, however, attributed her good hair to good breeding. "Wasp hair doesn't get frizzy," she informed us matter-of-factly-causing a double take on the part of Somers White Farkas, who was convinced she'd misheard and demanded that Mrs. Kennedy repeat herself.
Ms. Farkas was visibly excited to see a large display of teddy bears, a new product on offer by The FEED Foundation, a hunger nonprofit co-founded by Lauren Bush; it is perhaps best known in New York for its burlap tote bags. (The bears are a collaboration with Mom, who founded a charity called Teddy Share two years ago.) "Jonathan-my 61-year-old, very masculine husband-loves teddy bears," Mrs. Farkas said. "We have two on the bed." The things those bears must know!
Asked if she could think of any memorable Mother's Days gone by, Sharon Bush thought for a moment and then produced this doozy: "When Ashley was a baby and Lauren was 5, I had a teddy-bear company. On Mother's Day, we went to … a homeless shelter and handed the teddy bears out. And they had a real bear there, a black bear. The circus had been in town. There was a bear going around; he came so close to Lauren. I mean, I'll never forget that." And-rowr!-nor will we.