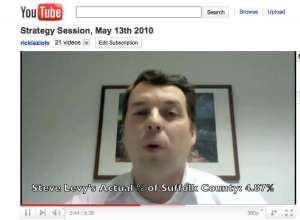 Rick Lazio's campaign manager does some recalibration of the Times Union tally of weighted votes for Republican nomination for governor among county chairmen, showing Rick Lazio leading Steve Levy 51.5 to 31.5 percent.
Campaign Manager Kevin Fullington says, basically, delegates in each county are up for grabs, and that they'll poach voters from Levy's column.
Fullington goes as far as to add the nearly seven percent of votes from Erie County, assuming they'll abandon their hometown candidate, Carl Paladino, in favor of uniformly backing Lazio.
NOTE: Picking off Levy's delegates is something Fullington has been telling me, and other reporters, about for a while.
Also, featured staff member here is Tara Snow, the finance director who said, "The money is really starting to come in."