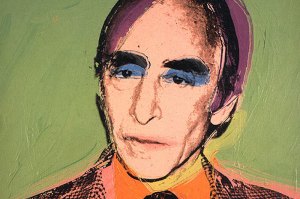 The worst thing anyone says about Leo Castelli in Leo and His Circle, the new biography of the legendary art dealer by historian Annie Cohen-Solal, is that he was a gentleman and a go-between with "an exceptional gift for public relations."
That characterization comes from curator Robert Storr, currently the dean of the Yale School of Art. "Leo had no idea," he told Castelli's biographer during an interview in 2008. "No vision of his own."
"That was a very good quote!" Ms. Cohen-Solal said on Monday during a leisurely three-hour lunch at Five Points Restaurant in the Village. "It has a little acid. I promise you, I tried to have more people giving these little acidic comments, but I didn't have enough!"
Consequently, the biography, which comes out May 18 from Alfred A. Knopf, adds up to a glowing tribute to Castelli, and portrays him not just as the steward of Robert Rauschenberg, Jasper Johns, Roy Lichtenstein, James Rosenquist, Richard Serra and many other giants, but the single most dominant force behind the history of postwar American art. In the prologue, she says he "revolutionized the status of the artist in America and changed all the rules of the art market." In the epilogue, she writes that his "legend owes its existence not only to his principled devotion to an ideal but also to the ways in which he went about serving what he venerated." Ms. Cohen-Solal is positive her subject would have liked the book. "It's a warm book," she said, hitting a note halfway between apologetic and defiant. "It's a book which glorifies him."
Not that that's what she was going for-in fact, it frustrated her that everyone she talked to had only nice things to say about Mr. Castelli.
"I thought, 'It's impossible to have such a consensus.' Consensus is strange!" she said. "I tried to get more dissonant voices, and Rob Storr was wonderful in this respect. But there were not that many of them."
In Ms. Cohen-Solal's own description, Castelli was "a paragon of civility and gregariousness" whose "Old World urbanity burst forth to pyrotechnic effect during [his] first opening," in 1957. She takes note of his "darkened eyebrows, stormy eyes, and sensual lips" and at one point describes him as looking "seductive as ever in his English tweed suits, impeccable shirts, and refined ties." He was "engaging, funny, generous," she writes. "[A] social creature, with a bon vivant's special know-how for making friends."
Ms. Cohen-Solal, who counts Jacques Derrida among her cousins, and whose sister is the current deputy mayor of Paris, has her own striking, deep-set eyes and a longstanding tendency toward glamour that reportedly earned her comparisons to Madonna in the Parisian press in the '80s, after a biography of Jean-Paul Sartre made her something of an intellectual celebrity in Europe. She moonlighted as a singer-she will sing the Mozart Requiem with a choir at the Choral Arts Society on Friday-but spends her days as a visiting professor at the Tisch School at N.Y.U. She lives in a tiny apartment in Tudor City and has an 18-year-old son at Johns Hopkins whose enthusiasms include cartography.
She wanted to have lunch at Five Points, she said, because it's a block away from the former home of Robert Rauschenberg, one of the first artists Castelli championed as a gallerist, as well as around the corner from the current home of Castelli's son Jean-Christophe, who helped edit a large chunk of the 500-page biography. It is a frequent destination for her, the elegantly accessorized 59-year-old said, and the staff there knows her well. "Sometimes I don't even order anything and it's O.K.!"
After chatting at the table for more than an hour on Monday without even glancing at the menu, Ms. Cohen-Solal ordered sparkling water, a chilled wild nettle soup and an orange salad with toasted hazelnuts, enthusiastically sharing everything she got with The Observer. "Take with me, take with me," she said in her French accent, sliding a spoon over. "It's delicious."
Ms. Cohen-Solal said she cooked for Castelli regularly starting in 1989, when she moved to New York from Paris to serve at the French embassy as the cultural counselor to the United States, and she remained friends with him until his death 10 years later.
When Ms. Cohen-Solal first came to New York, she knew barely anyone here-she had been to the United States just once, during a book tour-and two weeks after her arrival, a friend of her uncle's organized an intimate dinner designed to facilitate her entree into New York culture. As fate would have it, among the six people in attendance was Castelli, who was so enchanted by the young academic from Paris that he immediately took her under his wing and promised to teach her everything she needed to know about the New York art world.
"You're going to take the city by storm with your orange skirt and your long gloves!" Castelli said, according to the preface to Ms. Cohen-Solal's biography. "Why don't you come to the gallery tomorrow around five? You'll see the show, you'll meet Roy. He has an opening, and you'll stay for the party!"
"He decided, 'I want Annie to be part of my world," said Ms. Cohen-Solal. "He basically gave me the red-carpet treatment. Why, I don't know! I became part of his stable. He basically gave me the legitimacy to be in the art world. I owed him this book, I think, because of the treatment he gave me."
Castelli's "red-carpet treatment" of Ms. Cohen-Solal came first and foremost in the form of invitations to parties and introductions to artists, critics, dealers, museum people and collectors; she met everyone through him. But thanks in part to the fact that she and Castelli lived just a block apart, the two of them also became truly close friends.