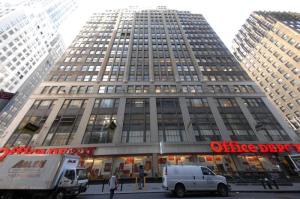 In 1999, when retailer Liz Claiborne threatened to relocate its headquarters-along with its 800 employees and bountiful tax dollars-to New Jersey, the Giuliani administration induced it to stay with $8 million worth of incentives.
And so the mighty women's clothier signed a new 15-year lease at 1441 Broadway, the 34-story tower it had called home for 20 years.
Those incentives expire come 2013. So does Liz Claiborne's lease. And the mighty retailer is once again casting about for brokers to help it decide whether to stay put at 1441 Broadway or pick up and move.
Sources say Liz Claiborne has narrowed its brokerage search to either Newmark Knight Frank, Jones Lang LaSalle or Studley. Once Liz Claiborne chooses a broker, it will be looking for about 250,000 square feet, according to sources.
Right now, the clothier has a reported 276,000 square feet at Leon Charney's 1441 Broadway, at 41st Street, in addition to space scattered elsewhere.
A spokeswoman for Liz Claiborne would only say, "With the lease expiration approaching, it is common practice to interview brokers, but it is premature to comment any further."
drubinstein@observer.com