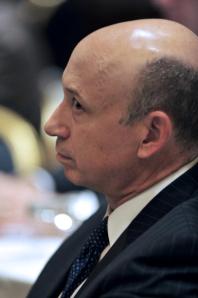 Lloyd Blankfein spoke on a conference call this afternoon, which was ostensibly for clients–although the number was rather conveniently leaked to the media.
So, the Journal's Deal Journal listened in and live-blogged it.
According to their running report, Mr. Blankfein reiterated what he said on Charlie Rose last week–that he should have been doing all this communicating before the S.E.C. dropped those devastating fraud charges on the company. "He sounds like a father who realizes he's spent too little time with his kids," wrote Michael Corkery.
Apparently, not much of the information seemed like it was aimed at actual clients. Twenty minutes in, the two Journal reporters got wise: "This is sounding like an infomercial."
After the call, they both agreed: "That was quite a commercial for Goldman Sachs."