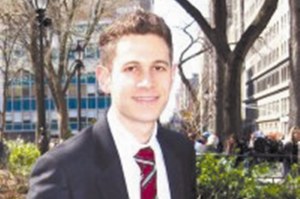 It's rare to see a real Republican campaign on Manhattan's East Side, let alone a G.O.P. primary. Not only does the party have bad odds in most parts of the city, here a Congressional challenge means facing the matriarch of the 14th District, Representative Carolyn Maloney, who has held the seat for 18 years.
But there's that anti-incumbent mood this year, and outsiders seem optimistic.
That's how I wound up at Stone Creek on East 27th Street Monday night, moderating a debate between two young Republicans trying to win the dubious honor of challenging Ms. Maloney. The first was 20-something Ryan Brumberg, who quit his job as a consultant at McKinsey & Co. to be a full-time candidate; he wore a dark suit and a bright tie. Mr. Brumberg faced Dino Laverghetta, another 20-something and a lawyer with Debevoise & Plimpton LLP; he wore a dark, pinstriped suit. Remarkably, the room was full-possibly thanks to cheap drinks and free pigs in a blanket-with about 50 people, mostly young, sitting quietly in folding chairs.
Things got a little tense when I asked them about the Wall Street bailout.
The candidates took their seats, facing the audience. My first question was about same-sex marriage. Both said they support it.
Further questions yielded further similar answers. Both candidates are against over-regulation and for the free market. Both support the spirit of Arizona's immigration law, and Rick Lazio over Steve Levy as the Republican candidate for governor. Both said global warming is real, but Democrats are overly dramatic about how real it is. Both, somewhat inexplicably, said John McCain was their favorite senator.
Things got a little tense when I asked them about the Wall Street bailout. Mr. Brumberg said the bailouts could have been avoided if the companies had been allowed to restructure. "Congress panicked and acted improperly," he said.
"I think that's somewhat disingenuous," said Mr. Laverghetta. "The easy answer is: 'We could have avoided it.'"
That was as heated as it got.
Before the debate ended, the president of the New York Young Republican Club, which organized the event, got up from her seat in the front row and looked down at the two candidates. More than anything, she said, she wanted to know: "Win or lose, what will you do to grow the Republican Party in this district following this election?"
Mr. Brumberg said he would do "everything I can to get the message out" and ask voters to "think about their futures."
"If we don't want to look like Greece," he said, "we need to support fiscally conservative principles."
Mr. Laverghetta was less philosophical. He spoke of his dedication to the party. "Win, lose or draw, I'll be around," he said. "Ryan became a Republican in April."
For good measure, he added, "We don't need a Trojan horse candidate."
The room laughed nervously, applauded the candidates and headed for the bar.
apaybarah@observer.com