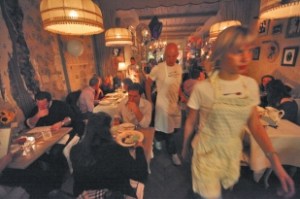 Last month Irina Aleksander scoped out the scene at Mari Vanna, restaurant of choice for New York's fashionable Russians. But while she noted that the place had the potential to be "the Babbo of Eastern Europe," the focus wasn't on the menu.
This week The New Yorker picks up where she left off, taking a closer look at the food. There's the wide array of flavored vodkas ("Plum is a bit pruney. Seaberry has a fluoride-rinse tinge"), the okroshka ("a tart yogurt soup laden with hard-boiled quail eggs and ham–a liquid Cobb salad"), and the "geyser" of butter that shoots from the chicken Kiev. Also:
Smoked fatback, served on a cutting board in the shape of a cow, looks almost like sushi, pale and immaculate. If snow maidens ate bacon, this would be it.
Tasty.