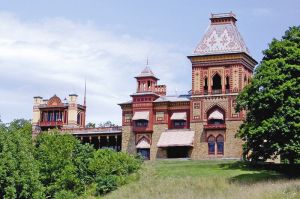 Before there were the Hamptons, there was the Hudson. For generations, wealthy New York art collectors, and the artists and writers in their circle, headed to the Hudson River Valley to escape the city. There, they built castlelike mansions, galleries and churches with breathtaking vistas and filled them with equally impressive art-much of it now forgotten. Who knew Henri Matisse's last artwork was 22 miles north in a tiny suburban church?
Here, a look along the Hudson:
Union Church of Pocantico Hills
555 Bedford Road, Tarrytown, N.Y.
www.ucph.org
A small, seemingly nondescript church near Tarrytown, N.Y., holds what is likely Henri Matisse's final project, a rich, round, stained-glass window. Far from being the space's highlight, it is flanked by nine other more intricate and colorful stained-glass windows, by Marc Chagall. The unlikely bounty is here because John D. Rockefeller settled in the small town in 1890, choosing it as a site for his country home, and Rockefellers have worshiped at and supported Union Church ever since. The church, a short drive north, recently opened extended hours for the summer tourist season
Olana
5720 Route 9G Hudson, N.Y.,
near Germantown
www.olana.org
Some painters are "discovered" after their deaths, but some are superstars during their lifetimes. Frederic Edwin Church was one of the latter. Acclaimed in the 19th century as one of America's most important artists, he built an elaborate, Persian-style mansion on the banks of the Hudson with the proceeds of sales of his wildly popular Hudson River School landscapes. He and his wife then filled the house with objects meant to recall the great civilizations of history; many of these objects are still on view. On display this summer in a special exhibition are the artist's vivid paintings of the isle of Jamaica.
Cedar Grove
218 Spring Street, Catskill, N.Y.
www.thomascole.org
There's actually a Rip Van Winkle bridge? It seems to promise "picturesque," and, fittingly, right next door to it is the restored home and studio of the American painter Thomas Cole, called Cedar Grove. Cole, a teacher of Church (see above), has a substantially more modest spread than his pupil, so expect no Occidental mansions. But the Grove does offer guided hikes throughout the summer to some of the exact sites that inspired some of Cole's and his contemporaries' most glorious and famous images.