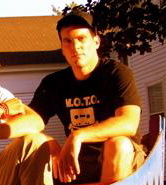 Russian billionaire and new Nets owner Mikhail Prokhorov was in extremely high demand among reporters on his tour through New York this week. At a press conference on Wednesday, which lasted almost an hour, reporters were allowed to ask questions one at a time. It was a scrum.
Mr Prokhorov did, however, grant two one-on-one interviews. The first was with Mike Francesa of WFAN, a virtual requirement for anyone entering the New York sports world.
And who got the second interview? It wasn't Sports Illustrated, or The Times, or ESPN or the Journal.
It was with a 28-year-old named Vinnie Rotondaro who graduated from Columbia School of Journalism three days ago.
He is not exactly a bold-faced name.
Two years ago, Mr. Rotondaro was working in a pizza kitchen. He began writing more and more, and published a few items for The Huffington Post, worked briefly as a crime reporter for the Brooklyn Eagle and then enrolled in j-school.
By his own admission, he wasn't an obvious choice for the sit-down. He spent the last few months occasionally filing for a blog run by Columbia called Brooklyn Ink. He had five bylines.
Then, there he was, getting one of the most in-demand exclusives of the week and delivering a 2,300 word Q & A with Mr. Prokhorov.
And how did this come to be? It's a story of luck and of an unusual public-relations strategy employed by Mr. Prokhorov.
Mr. Rotondaro said that he received an email about three weeks ago. It was light on details. In the note, he was asked if he would be interested in an exclusive interview with someone really important. It didn't say who. If he was interested in pursuing this further, he should call this number.
These are the sort of emails that journalists routinely receive and routinely delete.
Mr. Rotondaro wisely decided to call.
"I was kind of weirded out," he said. "But they left a number and you might as well call back, right?"
When he called, a handler said that Mr. Prokhorov wanted a Brooklyn blogger to interview him. The handler had read some of his stuff on The Huffington Post and thought Mr. Rotondaro would be perfect. He said Mr. Prokhorov wanted "to meet up with you. Pick your favorite bar or café in Brooklyn."
Before the interview, he was told there would be no restrictions. He could ask anything he wanted, and write anything he wanted.
"Basically in my mind it was a good opportunity," he said. "I didn't know exactly what they were thinking. It was strange. They're like, 'We're passing up the Journal, The Times and ESPN' and all that stuff. And I was like man, what is this all about? I'm not even that well established, obviously. I'm fresh out of Columbia journalism school. It's not even like I'm an established Brooklyn blogger."
Mr. Rotondaro met with Mr. Prokhorov on Wednesday at the bar Clover Club in Carroll Gardens. They chatted for 40 minutes. Mr. Rotondaro said he decided to turn the story into a Q&A because once he finished transcribing it, it's what made the most sense to him.
And why did Mr. Prokhorov decide to go with a kid named Vinnie to get the exclusive?
Mr. Prokhorov's spokesman emailed to say that his client "believes in supporting young journalists and Vinnie just graduated this week from one of country's most prestigious programs, the Columbia School of Journalism."
Also: "Mikhail wants to spend as much time as he can getting to know Brooklyn and its people, and wanted Vinnie to show him a local place. Next time, they plan to have a pizza together somewhere in the borough."
What's next for Mr. Rotondaro? He's going to take a few weeks to hit the gym, walk his dog and hang out with his girlfriend before he starts an internship at the Daily News.
And by the way, even for a 28-year-old who hasn't established himself, the interview is a good one. Read it.