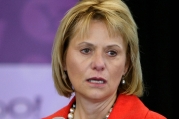 Yahoo CEO Carol Bartz doesn't gets paid a lot of money to feed lollypop questions back to journalists.
Tech Crunch founder Michael Arrington was reminded of this today while he was interviewing Ms. Bartz, who told him to "fuck off" after he asked her if one of her pitches was "BS."
When Tech Crunch posted a transcript of the interview on their site, they put "fuck off" in scare quotes, but if you watch the clip it sounds like a real fuck off.
The transcript also doesn't show Ms. Bartz saying "and that one I meant" immediately after while looking at her watch.
(via Gawker)