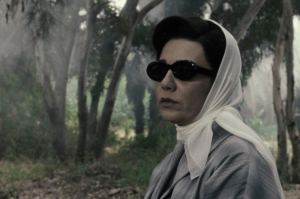 In a noisy Soho cafe, near the loft that she shares with her husband, artist Shirin Neshat mused on fame, art and the tempestuous gulf between America and her native-born Iran. Her first feature film-after 20 years of art videos-opens Friday, May 14, at Lincoln Plaza Cinemas and at the Quad Cinemas. Will Americans accept her screen indictment of the United States?
Ms. Neshat, 53, is already a superstar in the close-knit, p.c. art world, which has embraced her wholeheartedly for her work about Iran's persecution of women. Her lyrical silent videos that transcend language barriers are in the collections of the Guggenheim, the Museum of Modern Art and the Whitney. Two years ago, Whispers, her photograph of two women – one veiled, another covered with Persian script – brought $265,000 at a Christie's auction. But will collectors and curators who have long viewed Ms. Neshat as a critic of repressive Iran turn against her as her criticism shifts to the role the U.S. has played there? In her new film, she defends-to a degree-the nation of her birth.
Surrounded in a Soho cafe by chatty tourists and locals with laptops, and sipping a cappuccino, Ms. Neshat is more than capable of seeing the contradictions in her position critical of the U.S.
Women Without Men, the debut feature by the hyper-biennialized video artist, adapts a magic realist 1990 novel by Shahmush Parsipur that is banned in Iran. It's set in 1953, the year when Iran's first elected prime minister attempted to nationalize the country's British-run oil industry. In response, the Central Intelligence Agency and British counterparts engineered a coup that returned the Western-leaning Shah of Iran to power.
"My belief," explained Ms. Neshat, "is that the 1953 coup paved the groundwork for the Islamic Revolution, and the beginning of the antagonism between the U.S. and Iran." It's important to exhume the legacy of U.S. involvement in Iran politics as the nations grow closer to conflict, she said. "We're showing this film here because Americans have forgotten how criminal the behavior of their government has been," she said.
Surrounded by chatty tourists and locals with laptops, and sipping a cappuccino, Ms. Neshat is more than capable of seeing the contradictions in her position. Her young son was in school in Battery Park City on 9/11, and she is a naturalized American citizen who has not returned to Iran in more than a decade. "I feel as American as I feel Iranian," Ms. Neshat said, but what happened is something that "needs to be brought up in this country." Whether, she wonders, anybody is going to turn to her for that particular message is another story.
Ms. Neshat's apparent switch "is so unfortunate, you wonder if it's due to Iranian pressure on expat elites," said controversial online critic Charlie Finch of artnet.com. That said, "conformist collectors are so eager for approval from artists they'll forgive anything."
To "warm up" the potential audience, Ms. Neshat offered something of a prologue to it in video installations at the Gladstone Gallery, said her dealer, Barbara Gladstone. "She made five 10-to-12-minute films, three of which we showed here a couple of years ago." According to the dealer, her idea was that "they would be introductions to each of the characters, vignettes of each of the characters." These were, by and large, well reviewed.
Leah Freid, partner in Lombard Freid Projects in Chelsea, doesn't expect the politics of the film to discourage collectors of her work. "If it's beautiful and smart, good. More and more institutions and collectors are supporting that kind of work. People are definitely buying film and video, and the works she's been showing have been 'beyond the gallery walls' type of work. Shirin has been a leader in that way, in having a narrative structure in her work. It will encourage people to support her in the market."
Ms. Neshat became an overnight sensation in 1999 with the screening of a series of videos, including the now famous Rapture-a silent movie, lyrical and mesmerizing-that films the men of Iran on one screen and the women on another. (Shot in 16 millimeter, the film renders the desert beautiful and exotic, and the gulf between the two sexes insurmountable.) Within two years, it had been shown in major museums all over the world, including in the Whitney Biennial 2000 and at MoMA. Then began a string of career successes. By 2002, the Guggenheim Museum acquired her work; soon her works were in the collection of several leading art collectors, including Dakis Joannou (whose collection is on display now at the New Museum, in its "Skin Fruit" show).