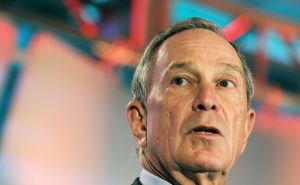 "Proud" iPad owner Mayor Mike Bloomberg did all of the following this morning: Tweet, update his Facebook profile, read Digg and check in on Foursquare.
"I even posted a personal on Craigslist," he said. "Wanted: Cleveland basketball star to save basketball in the Big Apple."
Mr. Bloomberg was showing off his tech savvy at TechCrunch's Disrupt conference where he was announcing the recipient of the city's tech start-up seed money. The money went to My City Way, a company that develops apps to help people find restrooms and other things to do in New York on their mobile devices, according to The New York Times.
Mr. Bloomberg, who owns a magazine himself, also took some time to explain what he sees as the challenges facing the publishing industry. Magazines that are in trouble, he said, have failed to remain "germane to people's lives."
"I think Businessweek, the one we bought, lost its way and it was not germane to its audience," he said. "We're not going to go away from paper for an awful long time."
Mr. Bloomberg also touted the importance of quality content.
"Quality newspapers still are doing O.K., quality magazines are doing O.K., quality television is doing O.K.," he said.
"There is something to the content that we've forgotten about, and we've gotten so carried away with the technology."