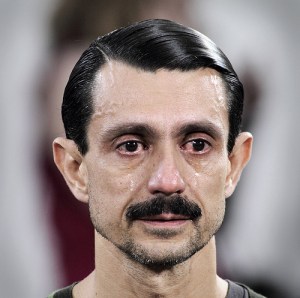 MoMA maintains an online portrait gallery of visitors to Marina Abramovic's The Artist is Present, and one face keeps popping up: a man with slick hair and a black mustache, who often appears to be weeping.
Who is he?
He is Paco Blancas, "a NYC-based make-up artist," and the museum has dispatched an intern to interview him.
Blancas tells her that Abramovic's piece "has a very strong magnetism": "it's almost like you feel this force, it draws you in, like a magnet."
Evidently!