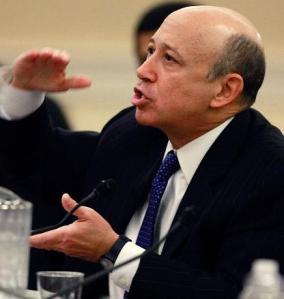 The Wall Street Journal has a little item on "A Corporate Beauty Contest," a paper published earlier this year thanks to inquiring minds at Duke University and the National Bureau of Economic Research. Not only, it turns out, are the faces of chief executives perceived to be more competent than faces of non-chiefs, but the study's thousand-plus subjects apparently responded better to the faces of large companies' chiefs than the heads of small firms.
More interestingly, baby-faced CEOs were found to be more likable, and yet they tend to get less compensation than their mature-looking counterparts. As it happens, Forbes had an item on the same study late last month, which said that that pay difference was 7.5 percent. The researchers were bothered by that: "Essentially, the 'look' of competence," they wrote, "says very little about effective competence."
The Journal wants to know where Goldman chief Lloyd Blankfein fell. But as it happens, researchers have disclosed that only chiefs from 2004 were used. Mr. Blankfein didn't take over until 2006, sadly, although predecessor Hank Paulson was indeed included. Mr. Paulson was probably not found to be baby-faced: In his life he has bailed hay, turned butter, fostered pet raccoons and taken Canadian canoe trips "with difficult portages."
According to Forbes, Jeff Immelt of GE got high ratings for attractiveness, and Bear Stearns' James Cayne did not.