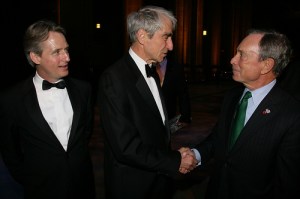 Michael Bloomberg proposed cutting 11,000 jobs.
More details here.
Teacher cuts: 14 percent in the South Bronx; nine percent on the Upper East Side.
Bloomberg blames it all on Albany.
"Unless Mayor Michael Bloomberg runs for a fourth term—and he promises that will never happen—he doesn't have to worry much about the anger associated with the tough budget cuts he proposed Thursday."
Rep. Scott Murphy's GOP challenger: "I have said all along there are episodic positive impacts of stimulus money. The problem is, on balance, we can't afford this method."
Byron Brown is accused of building a "Great Wall of China."
Brown's fund-raiser was protested by police and firemen.
Judge to Joe Bruno: "You trampled on the integrity of the state Legislature."
"You committed a crime," the judge said. "The jury told you that. You can't accept it. You have blinders on. You simply can't see it."
Bruno, still a charmer.
Gay City News: "Goldsmith has longstanding ties to social conservatives, including some of the most ardent anti-gay right-wingers in America."
The White House blocks a Republican effort to water-down Wall Street regulation.
Obama's spokesman, Bill Burton, is a native of Buffalo.
337 commenters talk about Obama coming to Buffalo.
Oddo and Ignizio boycott a GOP event.
Transparency fight in the Council.
Michelle Paterson and Silda Spitzer lunch together.
David Paterson dined on 57th Street with John Sampson.
John Gambling on riots in Greece: "[C]ould very well happen here in the United States." [no link]
A pro-Wall Street cartoon in the Queens Tribune.
And pictured above is Bloomberg with Sam Waterson.